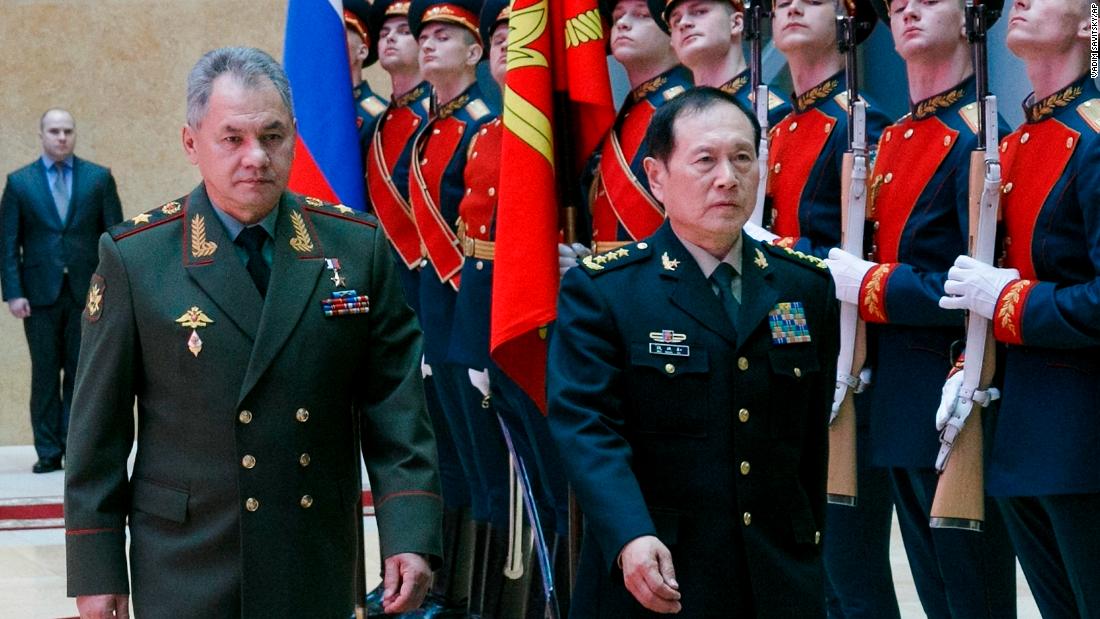 Hong Kong (CNN)The US should take notice of China and Russia's increasingly close military ties, a top Chinese official said Tuesday.
"I am visiting Russia as a new defense minister of China to show the world a high level of development of our bilateral relations and firm determination of our armed forces to strengthen strategic cooperation," Wei said.
"The Chinese side has come (to Moscow) to show Americans the close ties between the armed forces of China and Russia … we've come to support you."
Wei added that Beijing is ready to express with Moscow "our common concerns and common position on important international problems at international venues as well."
The unusually candid remarks come amid ongoing closeness between Moscow and Beijing, with Chinese President Xi Jinping and his Russian counterpart Vladimir Putin promising in November to enhance bilateral ties and cooperation on international affairs.
At a UN meeting in September, the foreign ministers of both countries criticized Washington for its aggressive stance in global affairs, and said there was an ongoing transition to a "multipolar world" without a single superpower.
While the Sino-Russian relationship has been rocky in the past, Beijing upped its support for Moscow in the wake of intense Western sanctions following the Russian annexation of Crimea.
Both countries have
long supported each other
at the United Nations on issues such as North Korea and Syria, where they are in opposition to or disagreement with the US.
Reforming China's military has been a key goal of Xi's, who
recently called
for the People's Liberation Army to be strengthened "with science and technology and rule-based governance."
Moscow too, has sought to build up its fighting power. In early March, Russia
tested a new missile
Putin claimed would render NATO defenses "completely useless."
Read more: http://edition.cnn.com/